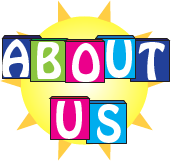 Nick and Jane Hall at NurseryTracks
NurseryTracks comprises Nick, musician and artist and Jane, translator and artist, who met at an arts' centre in 1967 in England and now live in the Netherlands with their two children and five grandchildren!
Our YouTube channel NurseryTracks evolved as a natural progression of two people passionate about music and the visual arts who were overtaken by an even greater passion - their grandchildren.
If you like what we're doing at NurseryTracks, please don't forget to subscribe to our YouTube channel by clicking on the red subscribe button below. It is absolutely free and without any obligation, but we really appreciate it.
Our facebook page has the latest video as soon as it is uploaded so please "Like " our NurseryTracks Facebook page to keep up to date with all we are doing.
Follow NurseryTracks on Twitter to keep up with baby and toddler related news and views!